10 Beautiful Coves to visit in Cornwall: The Best UK Coastline
10 Beautiful Coves to visit in Cornwall: The Best UK Coastline
Cornwall is, and always will be, one of the UK's favourite holiday destinations.
It's rare to meet someone living in the UK that hasn't visited Cornwall. Or they intend to – OR at the very least they've heard others singing its praises….
For many – a love of Cornwall is something that spans a lifetime. Starting with the bright memories of childhood summers.
Cornwall has almost 300 miles of coast, with sublime cliff tops, vast sandy beaches, ridiculously picturesque fishing villages (that you'll instantly want to live in), and awe-inspiring oceanic vistas everywhere. You'll be hard pressed to find a sea-view that isn't epic, in the truest sense of the word.
Plus, having the lion's share of coastline on the South West Peninsula means Cornwall is full of lovely little (and big) coves – both secret and well known.
Here are 10 beautiful coves to visit in Cornwall – some inspiration for a holiday.
1. Porthcurno Cove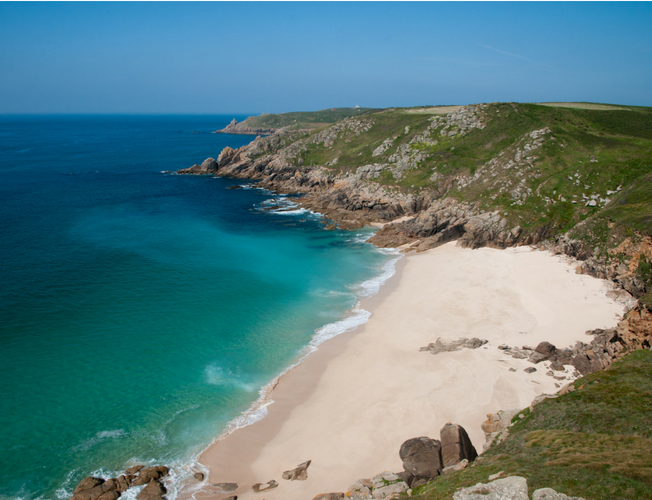 Strangely (of all places) Porthcurno was once at the beating heart of the telecoms world. Buried under the sand were giant cables linking Britain with America.
Now, Porthcurno Beach has been relegated back its former status as one of the prettiest beaches in Cornwall, but that's okay. However, if you're interested in the telecoms history – you'll find a telegraph museum in the village.
Porthcurno cove is also home to the world famous Minack Theatre. An open-air theatre carved into the cliffside high above the bay. To see a performance here, with the sun setting and the inky swells below is something you'll never forget.
2. Prussia Cove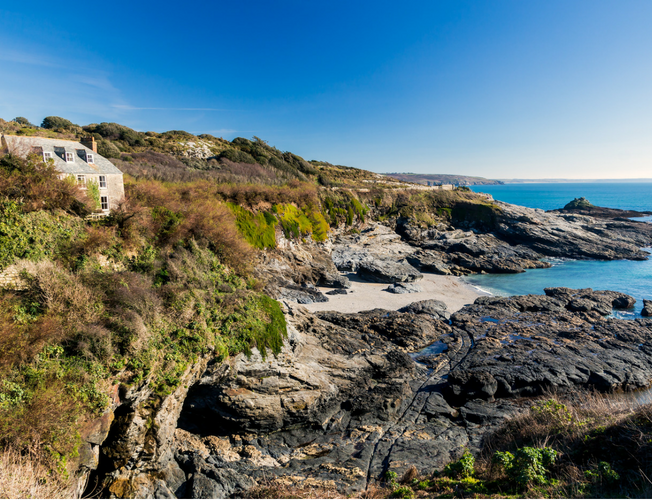 Not too far west of the popular Praa Sands is a small, and sheltered inlet – Prussia Cove. This is the historic hideout of potentially the most famous Cornish smuggler – John Carter, aka the 'King of Prussia'. Smuggling was a scenic crime.
All that's left of the past is a handful of ramshackle fishing huts and a line of listed coastguard cottages – built in the early 19th Century to keep a beady eye on smuggling.
3. Hawkers Cove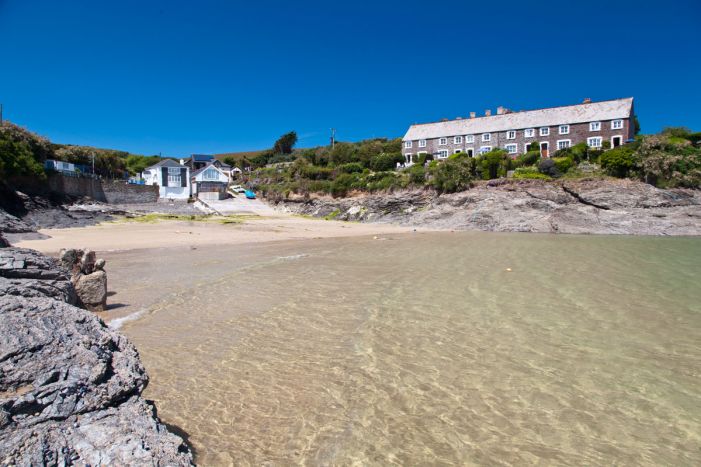 Image courtesy of Cornwall Guide
This is one of those attractive coves that you assume should be busy, but quite often isn't. Why? It could be the limited parking. Or perhaps because it's not super easy to get to. Anyway, once you're reclining on the sand with nothing but the sound of the waves crashing – you'll forget that.
Hawkers Cove is only a short distance North of Padstow near the mouth of the River Camel, and at low tide its sandy beach spans the estuary and connects with Trebethenick.
The Camel Estuary is home to the 'Doom Bar' – a notoriously dangerous sand bank, and cause of 600 beachings, capsizes and wrecks since the early 19th Century. Although, despite all the tragedy it's lent its name to the most famous of Cornish ales. If you've not sampled it, you should.
4. Trevaunance Cove
Described by Visit Cornwall as a "family beach" and a "best kept secret".
Trevaunance Cove encloses St Agnes' main beach and has an array of rock pools and mysterious caves to explore – which children always love. Dipping our hands into the warm waters of a rock pool, and laughing gutturally with surprise, as a tickly shrimp zips through our fingers is what childhoods are made of (amongst other things).
The waves here are manageable too, so it's the perfect spot to learn to surf. If you don't have a surfboard you can hire one, and if you're feeling hungry or in need of caffeine there's decent facilities.
5. Mullion Cove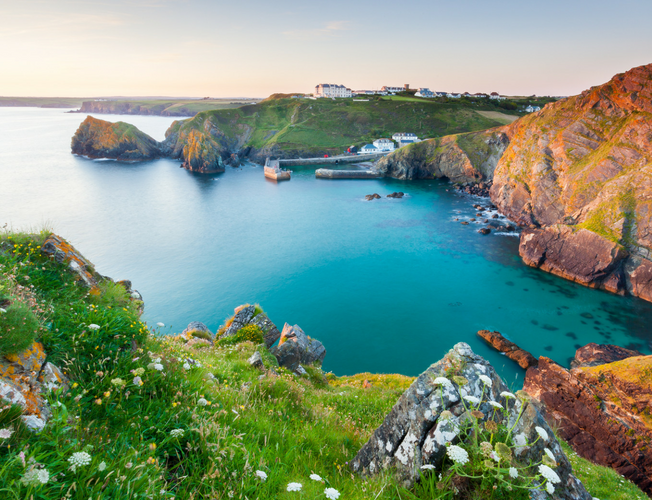 Mullion Cove, on the Lizard Peninsula, embodies the rugged maritime beauty that is synonymous with Cornwall.
Towering cliffs and solid sea walls hide a quaint, working harbour from the westerly tempests that roll in from the Atlantic.
Aesthetically Mullion Cove is a time still place. It's easy here to sink back through the years and get a sense of a simpler, more pastoral world.
But, this is 2018. Mullion is the largest village on the Lizard Peninsula and is culturally modern, with art galleries & exhibitions, craft shops, cafes and restaurants.
6. Readymoney Cove

This gem of a cove is overlooked on one side by the medieval part of Fowey, and the other by the stone remnants of St Catherine's Castle.
Behind a pretty sandy beach is an old coach house – once home to none other than author Daphne du Maurier ('Rebecca' and 'Jamaica Inn'). Clearly, if it's good enough for one of the greatest romantic novelists of the 20th Century it's good enough for the rest of us.
Readymoney Cove is easy to reach, only a 5-minute stroll from a car park and a great spot to while away a couple of hours with the family.
7. Cadgwith Cove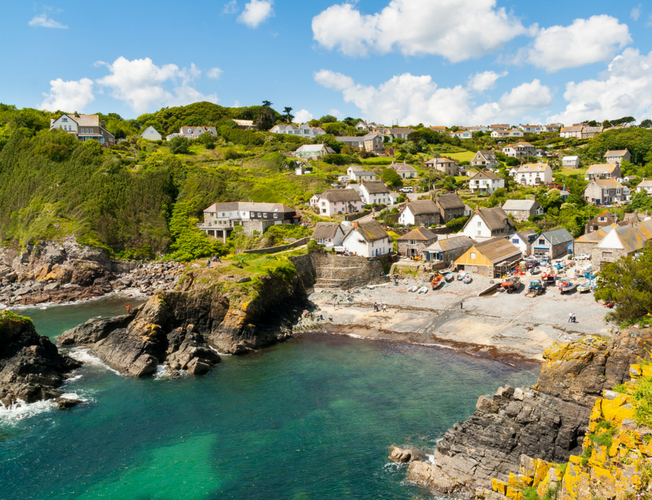 Cadgwith Cove, also on the Lizard Peninsula, is as traditional a fishing village as you'll find anywhere in Cornwall. A steep edged valley opens out into a sheltered cove, and fisherman's cottages cluster up the hillsides around a shingle beach. It's achingly pretty, and well worth a visit.
Deep sea diving is popular here, due to its closeness to some spectacular wrecks – where ships and boats have been caught out by the toothed 'Craggan' and 'Boa' rock formations.
Also, nearby along the South West Coast Path is the imposing 'Devil's Frying Pan' – a 200 ft deep crevasse in the cliffs, caused by a collapsed cave.
8. Church Cove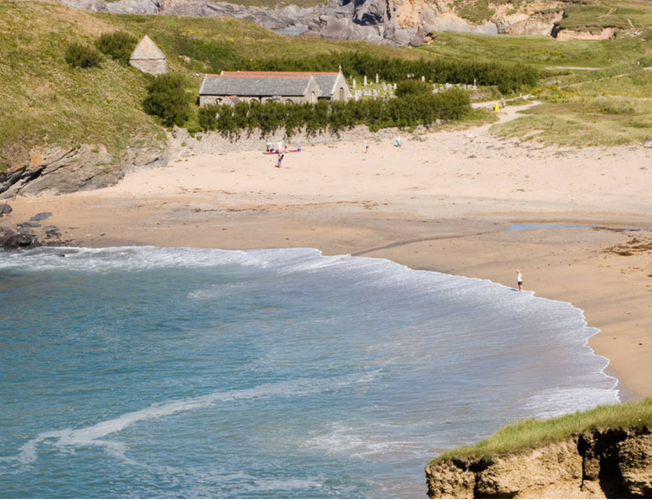 Photo courtesy of Cornwall Beaches
You don't have to be religious to appreciate this Cove, which takes its name from the church sitting at the edge of the beach.
It's one of the first beaches on the west side of the Lizard Peninsula, and part of an area of special scientific interest (SSSI) – playing home to unique or rare wildlife and geology.
Although a walk here with the family is a must, swimming isn't always advisable – due to strong currents. If you do feel like going in, make sure it's in the summer when the beach is lifeguarded (and, importantly, the café will be open).
9. Penberth Cove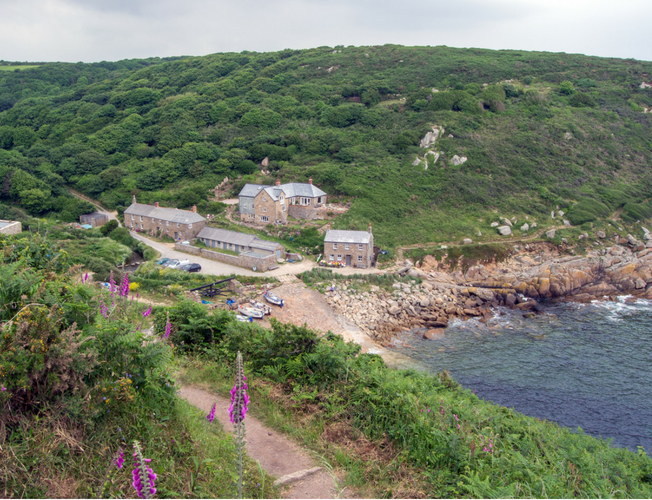 Arguably, Penberth is the most unspoilt cove and fishing village in Cornwall. Handed to the National Trust in 1957, its old-world character and charm has been meticulously preserved.
For the few who live here, life continues as it once did – and they take to the open seas in their fishing boats. It's heartening to see that tiny communities like this still exist.
Penberth Cove is near the end of the South West Peninsula (just) on the South Cornwall coast, and is an ideal starting point for South West Coast walks in either direction.
10. Kynance Cove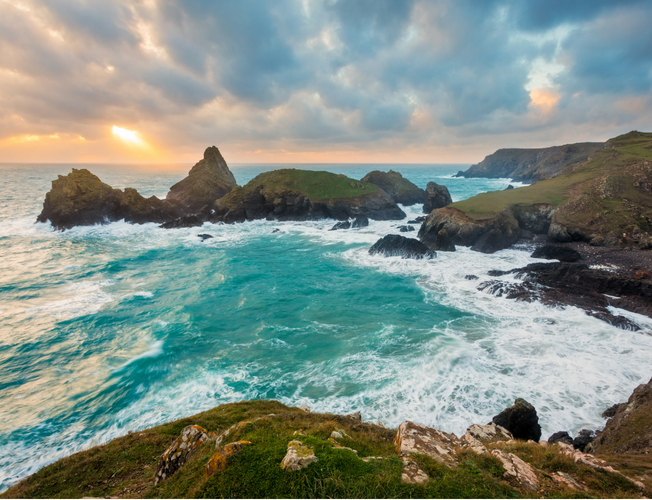 Yes, the fourth cove in this list on the Lizard Peninsula. It seems to hog all the best Cornish coves.
So, what is the Lizard Peninsula? The Lizard Peninsula is a stretch of land reaching south, culminating in Lizard Point – the most southerly point in mainland Britain.
Back to Kynance cove.
Kynance cove is one of the most googled, visited, photographed and loved coves in Cornwall. It's easy to see why, when you peer out over its almost tropical, aquamarine waters. And despite its relative remoteness, Kynance has been a go to cove since the Victorian era.
With all its interconnected caves to discover, pure white sand and magical islands, Kynance is a true symbol of what's so wonderful about Cornwall.
A blog isn't enough…
It's true though, isn't it?
All the descriptions and photos on Earth can't do justice to the real thing. So, the only logical solution is to book a late summer or autumn break in Cornwall.
Sea View Hotel on the Lizard Peninsula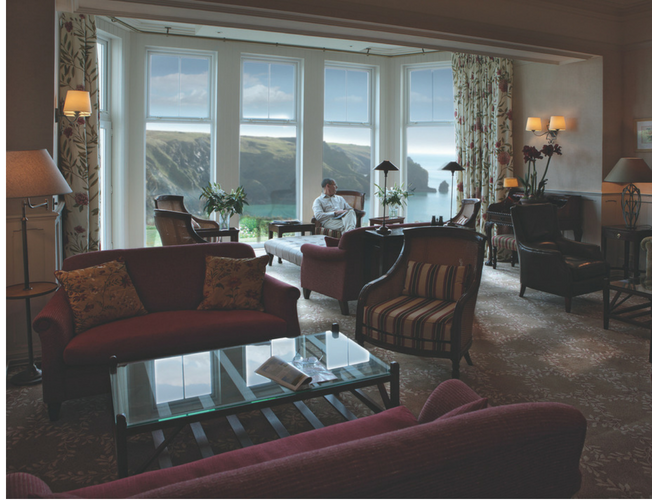 Photo - Mullion Cove Hotel
Inadvertently a few of these wonderful coves are on the Lizard Peninsula, so this would be the best place to book your stay. Which hotel? Well, why not stay at one of the most beautiful coves, as featured on this list?
The Mullion Cove Hotel stands alone on a dramatic headland, with unbroken views out to sea, friendly staff and superb dining. Here you can escape the everyday and immerse yourself in the Cornish coastal scape – a land of real romance and cherished memories.