3 of the Absolute Best Walks in Cornwall | Beautiful UK Coast
3 of the Absolute Best Walks in Cornwall | Beautiful UK Coast
Cornwall's rugged coastline—whittled into smuggler's coves and dotted with quaint little towns— attracts walkers from around the world.
Despite the undulating landscape, you don't need to be a goat or rock climber to enjoy coastal walks in Cornwall.
In fact, whatever type of walker you are, Cornwall has something to offer. We've put together a selection of three of the finest walks, based on both our own opinion and those of our guests.
Walk 1: St Ives to Zennor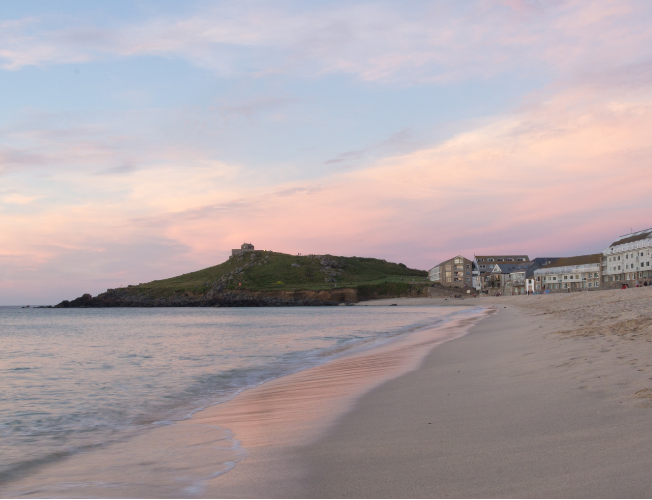 The St Ives to Zennor walk comes with a warning. And that is: Watch your step. Whilst the views are truly magnificent, you need to keep a good-eye on where you are walking, whilst you admire them.
The path presents a number of trip hazards and requires some scrambling. It is the most challenging route for hiking in Cornwall. However, the rewards are great…
It is often described as the not-to-be-missed part of the 630-mile Cornwall coast path. It will take a minimum of three to four hours to complete and is more challenging as the walk goes on. You'll, no doubt, need to catch the bus back from Zennor afterwards. You'll be pleased to rest your feet.
This part of the South West Coast Path begins with Porthmeor Beach (above), next to the Tate St Ives (one of the eight beaches in Cornwall that holds a Blue Flag Award). If you're a driver, you'll find plenty of parking here to start your journey. You could take a quick dip in the sea, before making your way to Zennor (particularly if the sun's out).
There's something to see here immediately. Before even setting out on your walk, you'll notice the iconic Man's Head as you look out to sea from St Ives. The clue is in the name with this one.
Once you've clocked the rock, you'll shift into first gear and start walking.
The first passing point is Clodgy Point beach. It is a stone's throw away from Porthmeor, but dog-friendly and a little more sheltered.
As you continue along the path, you'll spot Seal Island. Many boat trips run from here—a popular way for visitors to take in Cornish seascapes.
From this point, it can be tempting to cut off the rest of the coast path. But once you've made it this far, we recommend continuing beyond Trig Point to Zennor—the views are outstanding.
The Tinners Arms in Zennor will be waiting.
Walk 2: Lizard Peninsula Coast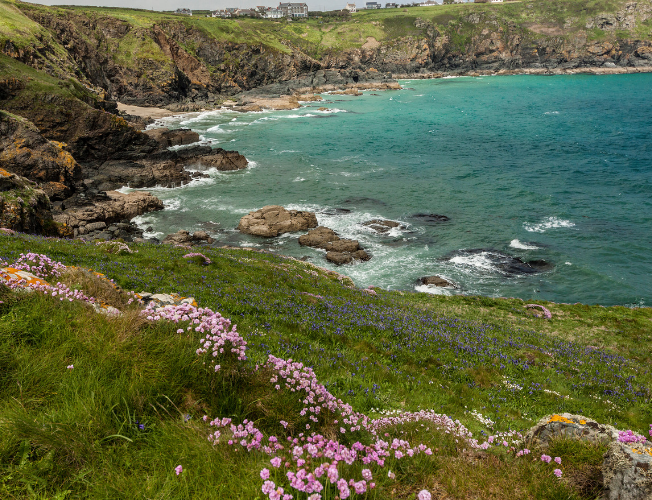 The Lizard Peninsula is Cornwall's most southern point and, therefore, the UK's. It's a beautiful stretch of land, packed with coves, caves, and rock formations, as well as time-still fishing villages. Nature-loving people are at home here. The plants and wildlife are varied and fascinating, most notably in spring and early summer.
In fact, the Lizard Peninsula makes for one of the best walks in the UK, let alone Cornwall. So it is no surprise that it is recognised on a global scale. Starting and ending at Kynance Cove, the walk is rated as "challenging" by the National Trust.
Iconic points to look out for include:
Pentreath beach—a pebble beach near Kynance Cove.
Polpeor Cove's old Victorian lifeboat station—a fascinating historic lifeboat station that is no longer used. And if you don't mind sitting on the cliff-edge, there's a café selling homemade cakes and a cuppa here too.
The Lizard Lighthouse at Lizard Point—the most southerly point in the UK. The lighthouse is 260 years old and has been converted into a visitor's centre.
The Lion's Den: a 39 ft hole in the cliff—formed when a cave collapsed in the mid-1800s.
Pen Olver—arguably the best viewpoint in Cornwall and popular picnic spot.
Ending where you began at Kynance Cove, the Lizard Peninsula Coast walk is convenient. Quite simply, it is not-to-be-missed; an exemplary section of the South West Coast Path.
Walk 3: Porthcurno to Land's End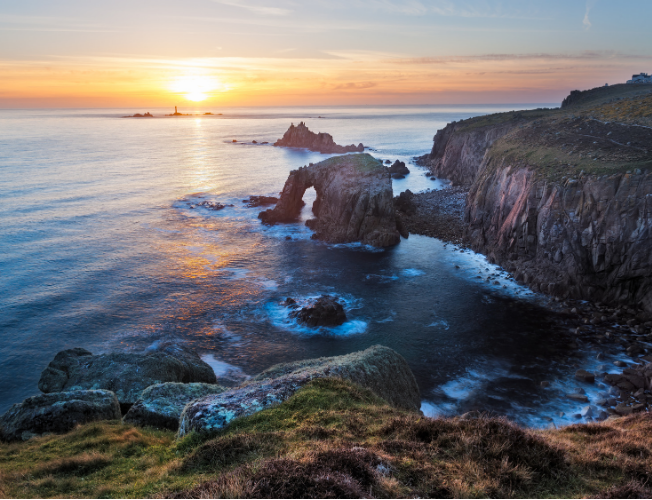 Porthcurno is owned by the National Trust and marks the start of our third best walk in Cornwall. The beach consists of broken shells, rather than sand. The reflection of these shells gives the sea here a remarkable turquoise colour—on both cloudy and sunny days.
It is also a viewpoint for Logan Rock, a balanced stone that apparently moves (although not as much as in the past for whatever reason).Once you pass Logan Rock, you can join the South West Coast path easily and see the Minack Theatre. This is an open-air theatre hewn from the cliff. Since, you don't see cliff-side theatres everywhere (if anywhere), The Minack is quite the sight.
The elements of this walk are simple but do become tricky around the beaches of Porthchapel and Porthgwarra. Both have lovely seas and are quite hidden. Following these beaches, the walk continues to Gwennap Head, Porth Loe, Folly Cove, and Pendower Cove. All of these are fantastic places, with topography unique to Cornwall.
After you've experienced the above, the path eventually brings you to your destination, Land's End. Mainland Britain falls away, and in its place, the vast and fathomless Atlantic unfurls. A place of contemplation, and epic no filter photos.
More walks in Cornwall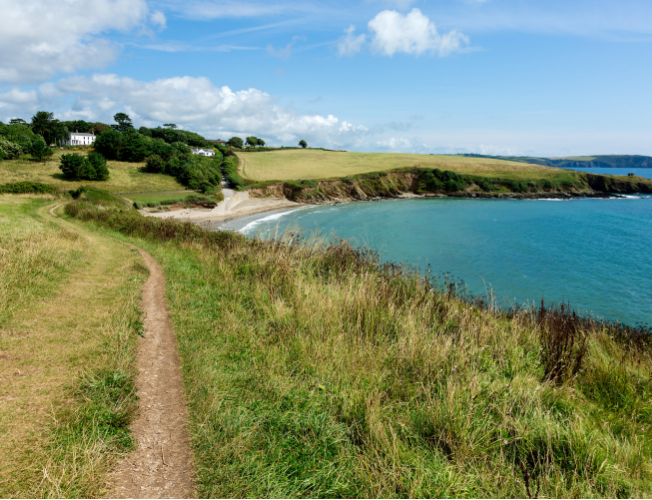 If the walks above aren't enough for you to pull your walking boots on, you'll be pleased to know there are a fair few Cornish rambles, check out the SWCP website.
Whether you're looking for dog walks in Cornwall, leisurely walks around a town, or more challenging options like those listed above, you'll find a suitable walk just minutes from us at the Mullion Cove Hotel.