Cornwall Beaches | Best of the Best
Cornwall Beaches | Best of the Best
If you haven't, Google "best beaches in the UK". Where some counties may have one beach included in a list, Cornwall often has 2, 3, 4…lots.
It's unsurprising. There are over 300 beaches to choose from in Cornwall. The perk of a county with the longest coast in England.
This (probably) doesn't mean they're all pretty. But there's more luck convincing others of seeing a flying cat than an ugly Cornish beach. Not that you'll ever be in such a peculiar situation.
Of all the wonderful beaches in dear Kernow, here are the best of the best—saving you the hassle of looking at another blog.
Golden Sands of Praa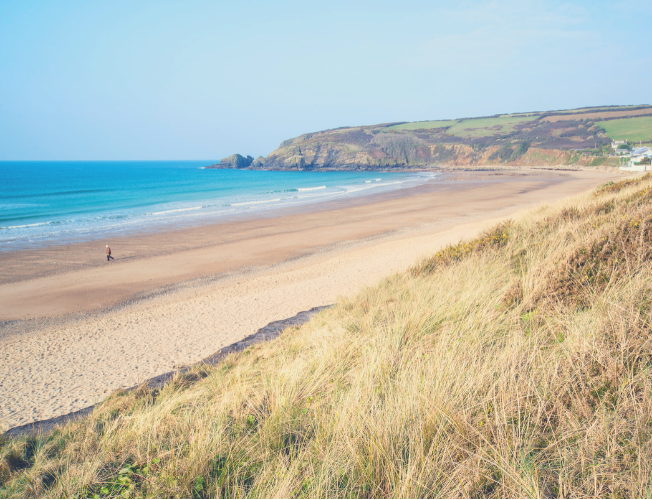 "Prah" sands, or "pray" sands is a golden beach in a half moon bay, between the Lizard and the Penwith Heritage Coast.
The secret behind it's appearance is shells. Millions upon millions of tiny shells, ground down by time and waves—leaving beautiful, silky sand.
Praa Sands is backed by dunes and has shallows, yet surprisingly surfable swells. An all-rounder, popular with families, couples and surfers alike.
Shores of Paradise, Porthcurno
Another soft sandy beach, in the shadow of the famous Minack Theatre. Most know Porthcurno as Nampara in the BBC's imagining of Winston Graham's Poldark novels.
Even outside of a dream sequence, Porthcurno seems surreal in its prettiness. Such craggy cliffs, yet such smooth sand and water that flaunts the colour of jewels—emerald and sapphire in certain lights.
Down one side there is a fresh water stream for paddling, and life guard cover during peak season.
Where Waves Tower, Fistral Beach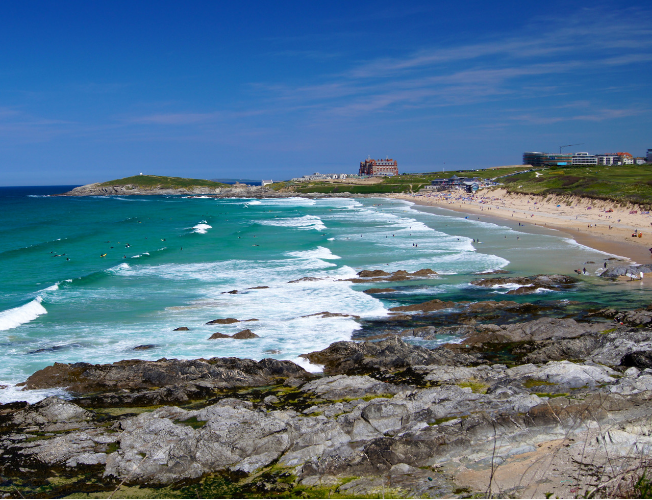 Fistral Beach near Newquay is the home of British surfing, and perhaps Cornwall's most famous beach. Its exposed location opens it up to big storm swells from the Atlantic, creating consistently surfable waves.
As amazing as surfing is to watch, and exciting to do— a beach is still a beach, and Fistral can be appreciated by everyone. Although having a leisurely swim in the sea may not be as easy as on other beaches.
However, a hot drink or cold tipple, and a good old-fashioned stare at the ocean will always be transcendental.
The Grand, Watergate Bay
Miles of pure sand (a theme you'll become used to in Cornwall), nestled in a valley between Newquay and Padstow.
Watergate Bay is one of the top water sports destinations in the South West, but it's also a haven for foodies. Jamie Oliver's "Fifteen Cornwall" restaurant is here, right on the beach.
Fifteen serves unique, modern Italian food and all its profits go to The Cornwall Food Foundation—a community project helping people from all walks of life have access to culinary learning.
Eating spaghetti and meatballs, with the sun setting over the ocean at Watergate Bay—might—be more romantic than Lady and the Tramp.
Sheltered and Mellow, Harlyn Bay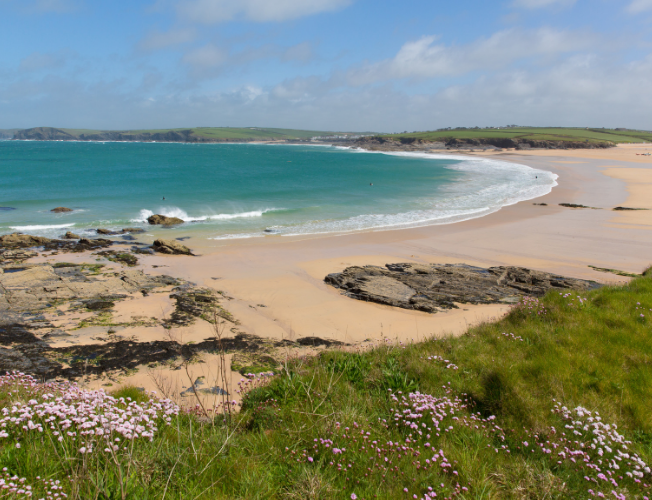 Cornwall is synonymous with raging tempests, but not all Cornish beaches are exposed. Some are quiet and sheltered from prevailing winds, such as Harlyn Bay.
What it lacks in drama it makes up for in diversity. If you want sand, and nothing but—then it's not for you. If you're a budding marine biologist, then you'll love exploring the diversity of Harlyn Bay, with its rocky seashore and tidal pools.
It is also near Padstow, renowned for the famous seafood chef Rick Stein and his delicious creations.
The Pretty, Sennen Cove Beach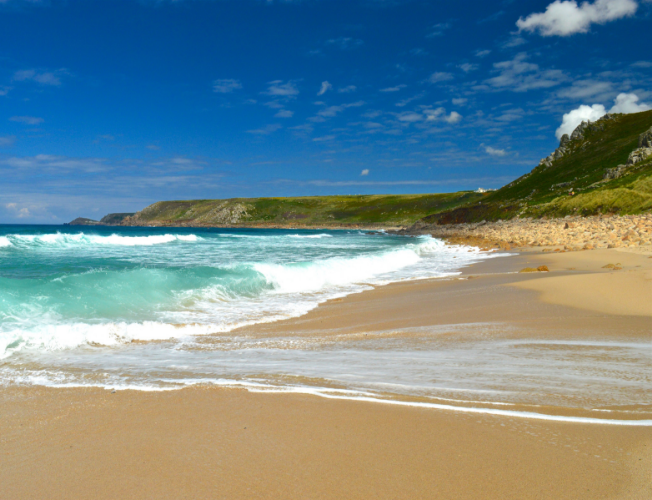 If this is the pretty one, are the others not so pretty? This is an inherent "problem" Cornwall has. Yes, Sennen Cove has a pretty beach. Gorgeous in fact. But coastal prettiness is standard for Cornwall.
Sennen is popular, and becomes busy, but it's also a relaxed and friendly place. Think chilled out surfers, rather than frazzled holidaymakers.
There's a mile of fine sand and, perhaps of equal importance, pubs, galleries and cafés.
Room to Breath, at Perranporth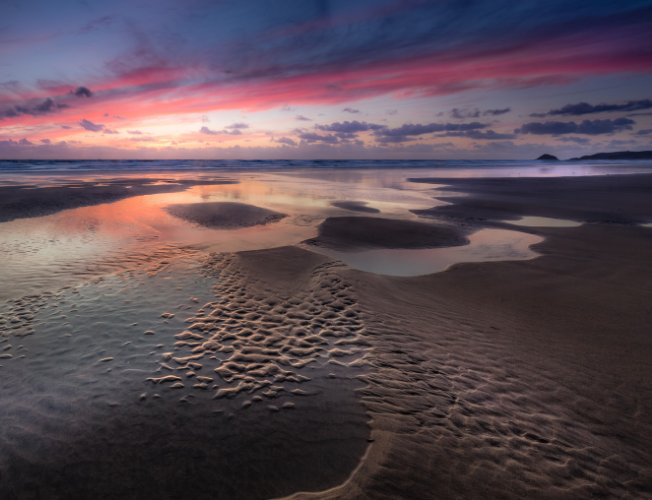 Some consider Perranporth as the finest beach in Cornwall. Its praises are sung from the rooftops. And rightly so. It's great for families, couples, surfers, photographers and anyone who appreciates the Cornish Coast.
Unlike some beaches, which become visitor magnets, Perranporth is a gurt* great beach. You should be able to find yourself some personal seclusion and not have to sidestep other people's summer detritus.
*Gurt = big in Cornwall and Devon dialects.
The Photogenic, Kynance Cove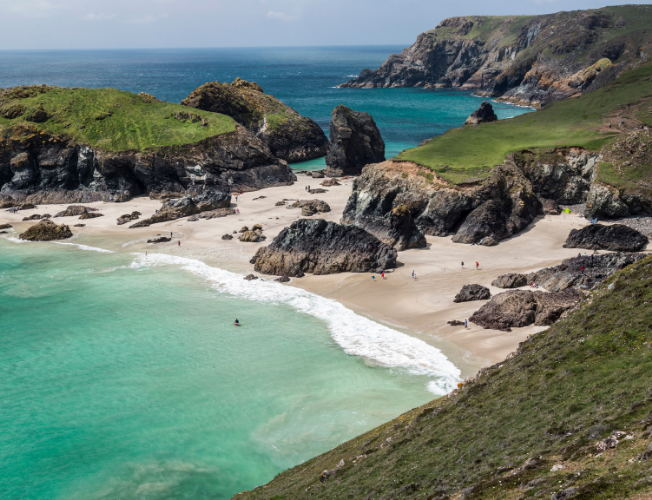 Ever since the first top hat was stolen by the wind, Kynance Cove has been a favourite Cornish destination.
Peering down in summer, it barely seems British. More like a fantasy cove or something from the Carribbean.
Kynance Cove is the most photographed and searched cove in Cornwall. It captures the imagination like no other, although, in summer it's best to arrive early to be in with a pitch.
The Artist's Sandbox, Porthmeor, St Ives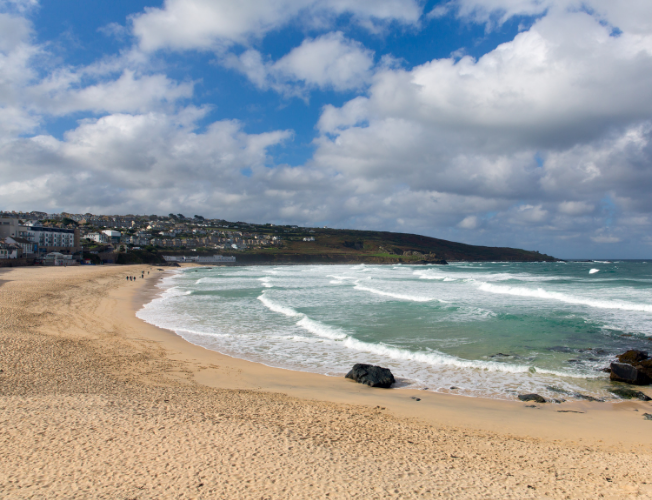 St Ives is one of the artistic capitals of the UK, once home to the famous modernist sculptor and artist, Barbara Hepworth. It still retains a vibrant creative community, with lots of independent galleries, and boutique craft shops. These alone are worth a visit.
What some don't know before arriving, is that St Ives has four lovely beaches. Other places must make do with one or none. St Ives is encapsulated by sand.
Porthmeor, overlooked by the Tate St Ives is a perfect one to laze around on after a summer's morning spent investigating the quaint, bustling streets of St Ives.
The Diverse, Gwithian Towans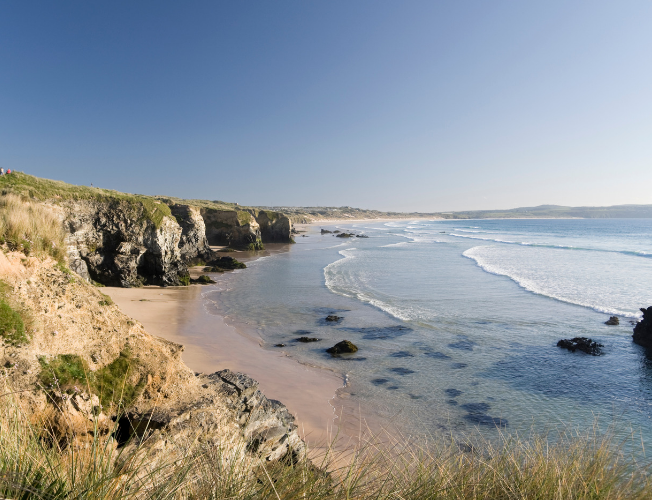 The last beach on this list. With most lists, the final listing fends off the rest - as the finest example of whatever is being listed. That's not how it works with Cornish beaches. It's like picking through diamonds.
Gwithian Towans beach is vast and idyllic, and backed by soft dunes. Like Perranporth it's a favourite with families and surfers alike, but big enough not to get cramped.
It's also a wildlife hotspot, with seals, cormorants, guillemots and razorbills. At low tide rockpools and secret caves are unveiled. Even as adults, it's marvellous to explore brine encrusted nooks and poke around beneath seaweed.
Escape to Cornwall's Most Beautiful Cove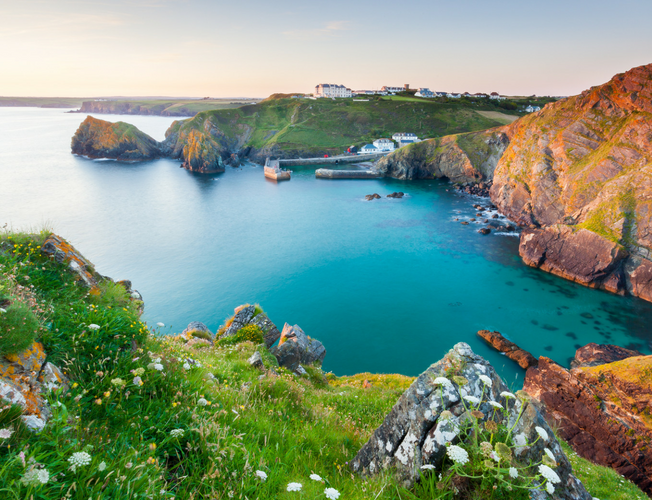 The Mullion Cove Hotel, is high up on a secluded headland, with open views over one of Cornwall's most untouched coves, deep on the Lizard Peninsula.
Classic sea view rooms, friendly staff and exceptional dining, with local Cornish produce. You'll not find a more authentic or romantic hotel for a Cornwall break.
Let the sea wash it away.